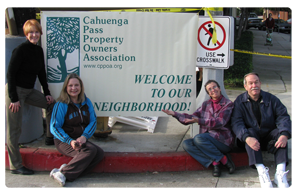 ... to the Cahuenga Pass Property Owners Association's website. Since 1952, our all-volunteer organization has been committed to maintain the tranquil character of our community and to improve the quality of life throughout our neighborhood.
In September 2016 we updated our website to give our community better tools and more information about news, events, meetings and safety in our neighborhood.
With your support, our organization will continue to advocate on behalf of our community, supporting activities that are economically, socially and environmentally sustainable. You can read more about our most recent accomplishments on this site.
We invite all residential owners and tenants and business owners and business tenants to join the CPPOA. Everyone is welcome.
Please support CPPOA by joining or renewing your membership today, so that we can continue our work to benefit our community.